# URL <- "https://www.dropbox.com/s/tizgdsat2mziod6/medium-data-utf8.csv?dl=1"


URL <-

 "https://raw.githubusercontent.com/DS4PS/cpp-527-fall-2020/master/labs/data/medium-data-utf8-v2.csv"


d <-

 

read.csv

( URL )

preview.these <-

 

c

(

"title"

, 

"subtitle"

, 

"claps"

, 

"reading_time"

, 

"publication"

, 

"date"

)


head

( d[preview.these] ) 

%>%

 

pander

()
Table continues below

| | | | |
| --- | --- | --- | --- |
| A Beginner's Guide to Word Embedding with Gensim Word2Vec Model | | 850 | 8 |
| Hands-on Graph Neural Networks with PyTorch & PyTorch Geometric | | 1100 | 9 |
| How to Use ggplot2 in Python | A Grammar of Graphics for Python | 767 | 5 |
| Databricks: How to Save Files in CSV on Your Local Computer | When I work on Python projects dealing… | 354 | 4 |
| A Step-by-Step Implementation of Gradient Descent and Backpropagation | One example of building neural… | 211 | 4 |
| An Easy Introduction to SQL for Data Scientists | | 563 | 8 |
Text Pre-Processing Steps
The article title text is fairly clean and needs little pre-processing, but there are a couple of important issues that need to be addressed.
Remove strange spaces
Remove HTML tags
Remove "hair space" dash marks
There are special spaces that appear randomly in some titles. They will appear identical to the invisible eye but will cause problems when you are trying to split titles into words. Replace them with regular spaces:
# replace all versions of space 




# including special styles like




# the 'hair space'  with regular spaces


d

$

title <-

 

gsub

( 

"

\\

s"

, 

" "

, d

$

title )
Some titles include HTML tags for emphasis. They will always occur at the start and end of the titles:
"<strong class=

\"

markup--strong markup--h3-strong

\"

>Why 70% of Entrepreneurs Are Ending Their Pitches the Wrong Way</strong>"




"<strong class=

\"

markup--strong markup--h3-strong

\"

>Tackle Negative Core Beliefs</strong>"
There are some stylized dashes in the text that are book-ended with "hair space" characters, which are thinner-than-usual spaces.
In the UTF-8 text encoding they come out as:
<U+200A>—<U+200A>
Since they are not actual words, remove all of these hairspace-dashes from the text.
Create a Performance Measure
We can track article performance in many ways. This dataset contains "claps", which are the equivalent of a thumbs-up or like on other platforms.
It also contains a responses category, but that is a little more complicated to interpret because comment might be asking for clarification because the article was poorly-written or arguing a counter-point becaue the article was controversial.
We will use claps to measure article popularity, but note the skew in the raw measure: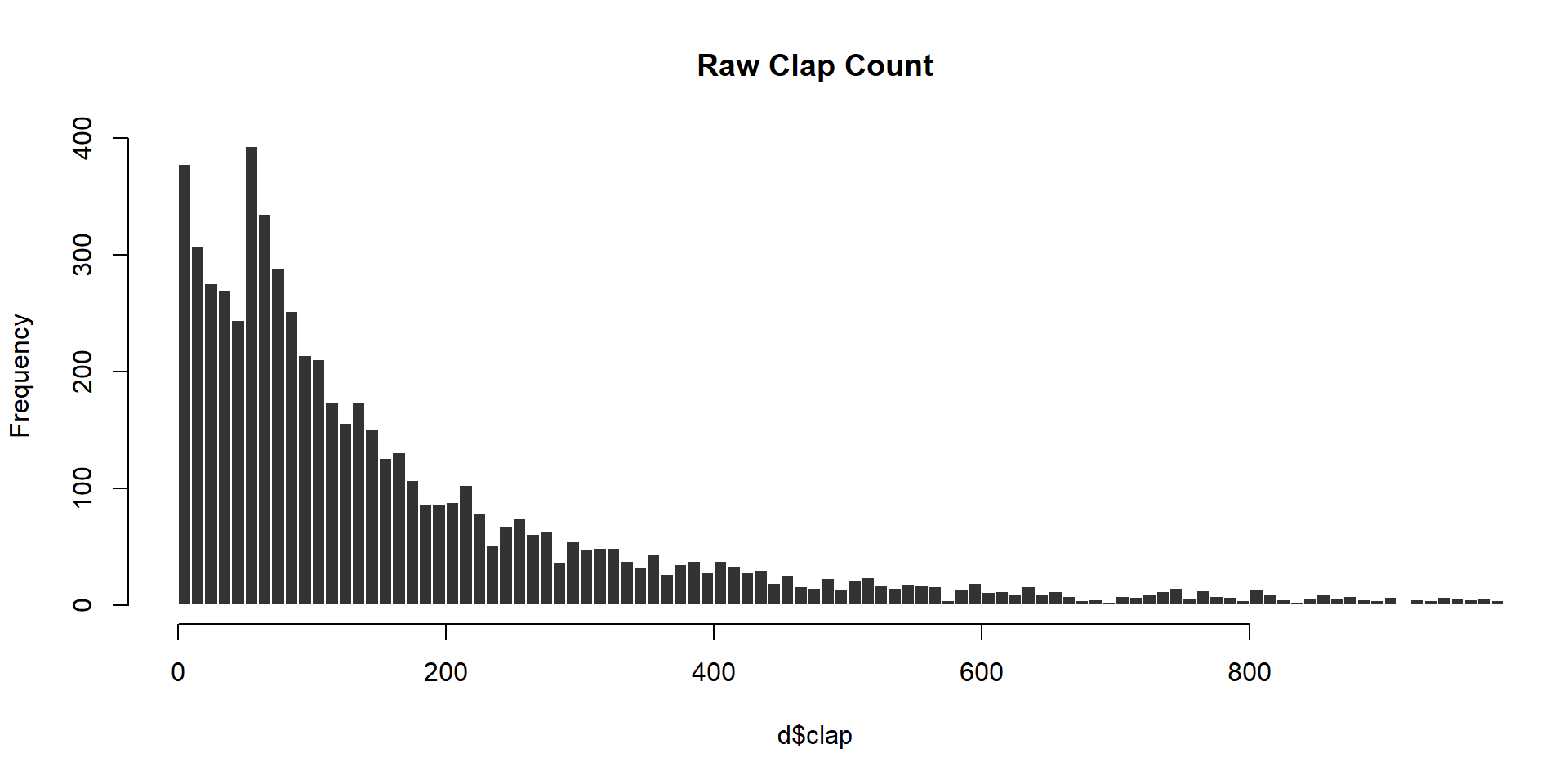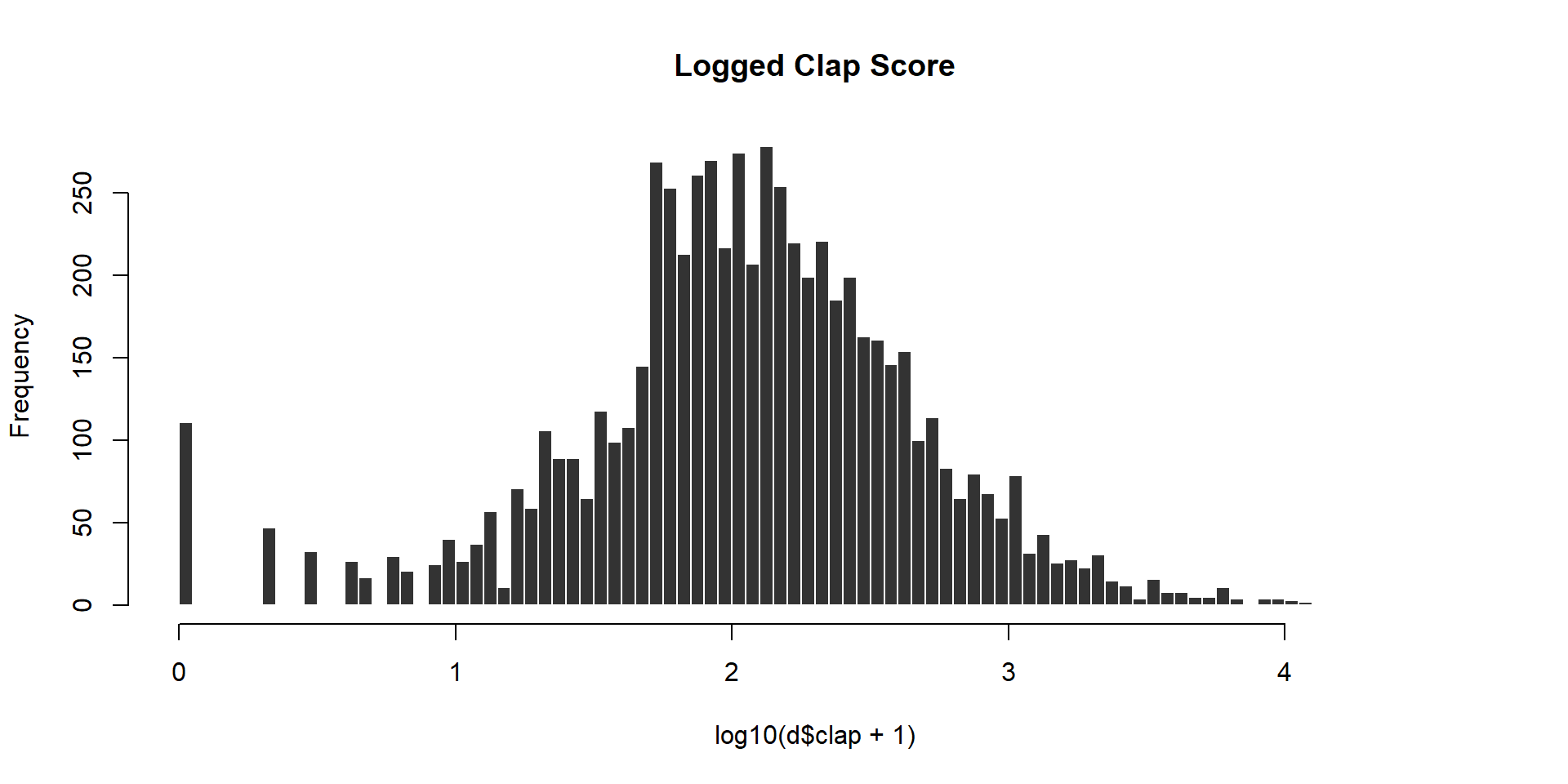 Create a new clap score to measure performance using the following log transformation: